Successful Case for Document Camera Scanner Campaign for model GP1080A in Japan
Guangzhou Comet Electronic Co., Ltd. is the leading provider of smart imaging scanning and collaboration solutions.
In May, 2021, we had a very successful crowdfunding campaign in Japanese Makuake website, finally gathered
470+buyers, 520+pcs document camera scanners order, see the link https://www.makuake.com/project/gp1080a/.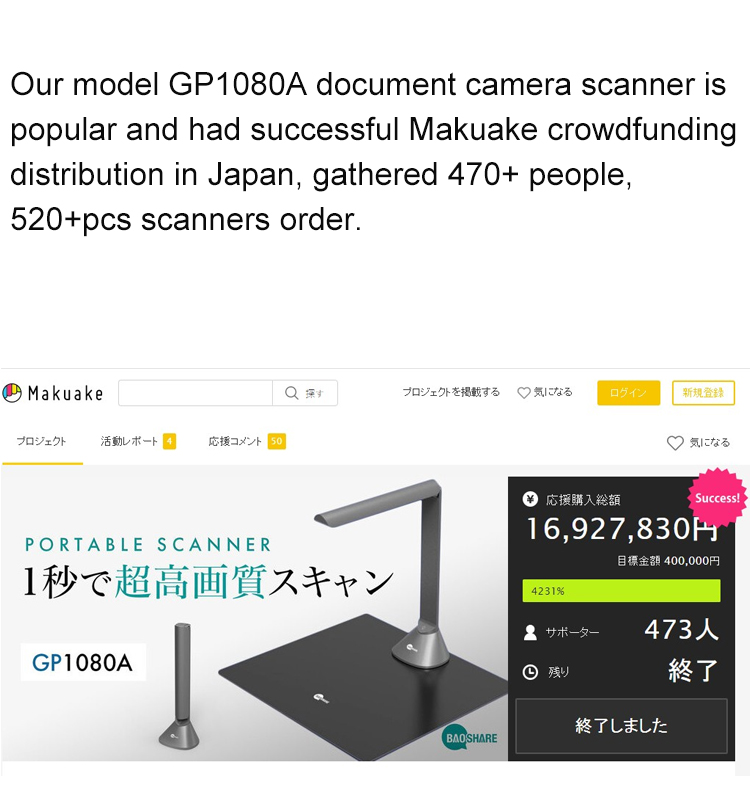 This scanner is the latest and most unique model in the Baoshare's product line. Unlike other traditional scanners,
GP1080A provides a revolution book scanning experience by bringing simple, fast, compact, and powerful performance.
With its unique design and flattening curved book page technology, it can be easier to scan any books, magazines, and
other paper documents within A3 size at the speed of 1s per page without splitting or unbending.
MAIN FEATURES BELOW:
Flattening Curve Technology: This book & document camera has excellent page flattening algorithm performance

and finger removal function to form eBooks easily while fingerprints are automatically erased. Simply turn the page

to trigger the timed continuous shooting function.
Excellent Performance: With 20 megapixels, the Baoshare document camera can support ultra-high-definition real-time

demonstration, capture, and display images up to A3 / A4 size, and the built-in LED 16 lamps can provide high brightness

to make it work perfectly in a dark environment.
A Multipurpose Scanner: The functions of video recording & real-time projecting make the document scanner suitable

for various occasions, like making e-books, teaching, and meeting, etc.

【*Only supports Windows operating system. *Not compatible with Mac OS.】

Excellent Design and Easy to Use: The document scanner has a high-quality aluminum alloy fuselage. It is foldable

and portable. We deliberately increase the base weight to make it more stable in use. As a well-designed scanner,

the scanner is very easy for the users to install and operate.
For more information about the GP1080A docuemnt scanner, please visit Baoshare's official website at
https://www.cometelectronic.com/document-camera-scanner/a3-book-scanner.html