Guangzhou Comet Electronic Co., Ltd. is the leading provider of smart imaging scanning and collaboration solutions.
In Oct, 2021, we had successful crowdfunding campaign in Japanese Makuake, finally gathered
What is a document camera?
A document camera is a real-time image capturing device that, when connected to a projector
or digital display, can show videos or still photos of objects and documents for a large group
of people to see. Document cameras can of course be used to display documents, but some
document cameras can also show microscope samples, be used as webcams, and record audio and video.
How do I use a document camera?
The greatest benefit of document cameras is the ability to give a close-up view of small objects and
documents to an entire classroom or meeting. A single document camera can save thousands of pages of
paper in a year (no need to make copies for every student or workers!) and can even help you save money
on textbooks and other class or office materials.
Document cameras are vital tools for us to be able to reach people at a distance as well as in a classroom
or meeting room. Being able to capture an image in real time and show details of all sorts of objects is very handy.
BAOSHARE offers a range of excellent document cameras.
This scanner is the latest with display screen and most unique model in the Baoshare's product line. Unlike other traditional scanners,
GP1800AF provides a revolution book scanning experience by bringing simple, fast, compact, and powerful performance.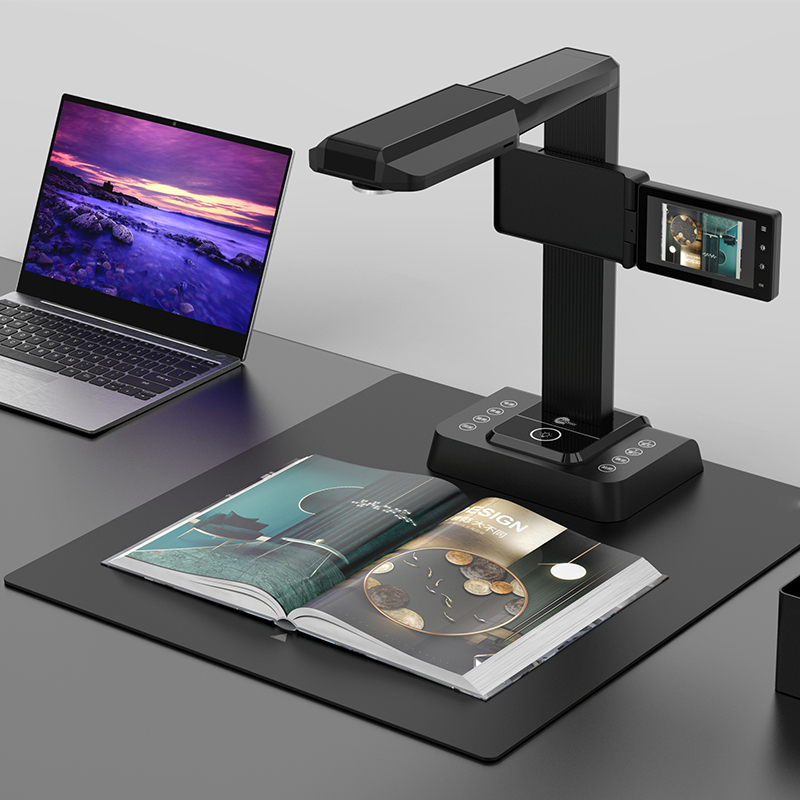 MAIN FEATURES BELOW:
Excellent Performance: With 20megapixels, the Baoshare document camera can support high-definition real-time

demonstration, capture, and display images up to A3 size, and the built-in LED 32 lamps can provide high brightness

to make it work perfectly in a dark environment.
A Multipurpose Scanner: The functions of video recording & real-time projecting make the document scanner suitable

for various occasions, like making e-books, teaching, and meeting, etc.

【*Only supports Windows operating system. *WILL compatible with Mac OS. in DEC. 2021】

Excellent Design and Easy to Use: The document scanner has a high-quality aluminum alloy fuselage.

We deliberately increase the base weight to make it more stable in use. As a well-designed scanner,

the scanner is very easy for the users to install and operate.

High resolution scanner documents with ABBYY OCR.
Scan documents, data, bills, certificates, books, real objects etc.

Curve flattening technology

Foot pedal for easy operation

5.0 inch LCD preview screen

Multi-language for the software


17 languages: English, German, French, Russian, Italian, Spanish, Arabic, Portuguese, Turkish, Japanese, Korean, Thai,
Vietnamese, Malay, Traditional Chinese, Simplified Chinese, Ukrainian.

Major Applications:


(1) Education and school (2) Library (3) Business (4) Hospital (5) Individual

(6) Government (7) Bank (8) Police Station (9) Customs Bureau (10) Archives Bureau




For more information about the GP1800AF docuemnt scanners, please visit our Baoshare's official website at

https://www.cometelectronic.com/document-camera/hd-digital-desktop-camera-document-scanner.html
Thank you for reading! We appreciate you stopping be and truly hope you found this article useful and informative.
Be sure to look around at some of our other articles about all things related to document cameras!